Hoorah! 


We now have gift cards available for sale! 
---
In case you haven't heard from a little bird, here's the latest shop news: We now send all our packages out via courier service!  It's not only quicker but also more secure! Local deliveries get their packages within 2 business days (after it's been shipped). 💪🏻. Please do however provide a contact number upon checkout for the delivery company to process this. If you really HAVE to have your order sent via local mail, please do leave a note for us at checkout and we'll send it via SingPost (though we will not be able to guarantee the same speed...
---
• happy laundry day • happy laundry day news • happy Laundry Day Vintage • singapore vintage shop • Vintage clothing sale • vintage fashion • vintage online store • vintage singapore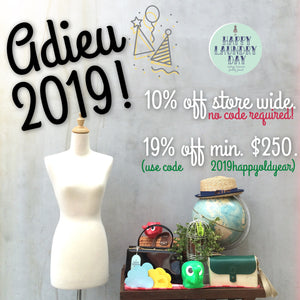 20.... not ready to say another 20 yet? 😉. We understand. We want to bid this beautiful decade a proper farewell too!Now through 31 December, take 10% off everything in the shop! Or take even more off when you have at least SGD$250 in your shopping cart and use the code 2019happyoldyear! Happy Old Year.... for now. 🙃. Take 19% off a minimum order of SGD$250 with the code 2019happyoldyear! No coupon code required for 10% store wide offer. Both offers end 2359 of 31 December 2019. Free shipping is not available during the sale period.
---
We're off to create some new memories and hopefully bring back some old things!  While we are away, the shop is having a *15% off sale! No coupon code needed!  The Must-Have section will also be on sale for the very first time! 10% off minimum of $300. Use coupon code MUSTBUY10 at checkout.  Free shipping does not apply during sale period.  Please note that all orders made within this period will be sent out after 5th November and by 8th November. 
---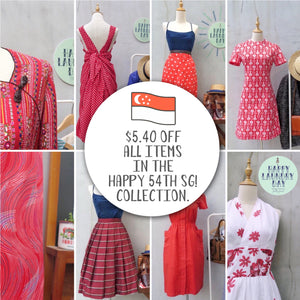 Happy 54th Birthday Singapore! We thank you for the years we had growing up. We hope we will be able to grow old with you too.  From now till 10th August, take $5.40 off all items from our Happy 54th SG! collection. No coupon code needed!